Restaurant and Bars
Explore the world of gastronomy at Sheraton Bratislava Hotel
Dining is not only about food, it is also about atmosphere, feeling welcomed and connecting to the people around you, which care about. Sheraton Bratislava Hotel is the perfect place to gather with friends or co-workers and enjoy drinks or a great meal.
Sheraton Bratislava Hotel invites you to discover two vibrant bars - Amber's Bar and Port Wilson Lobby Lounge and restaurant Brasserie Anjou. Meet friends, family or business partners and enjoy professional service, fresh seasonal products and a wide selection of wines in a unique atmosphere.
BRASSERIE ANJOU

Brasserie Anjou with stylish Winter Garden, offers perfect healthy lifestyle breakfast. Even gluten free and lactose free assortment is available to keep you fit and healthy.
With its unique atmosphere offers ideal venue for all your celebrations, evening company cocktail parties or dinners with clients. Winter Garden can be also used for automotive presentations, product launches or art exhibitions.
OPENING HOURS:
Breakfast:
Monday - Friday: 06:30 AM - 10:30 AM
Saturday - Sunday: 7:00 AM - 11:00 AM
Lunch:
Monday - Friday: 12:00 PM - 15:00 PM
Á la carte menu
Is served in Port Wilson Lobby Lounge every day 15:00 PM - 10:30 PM
RESERVATIONS:
T: +421 2 3535 0740
E: brasserie.anjou@sheratonbratislava.com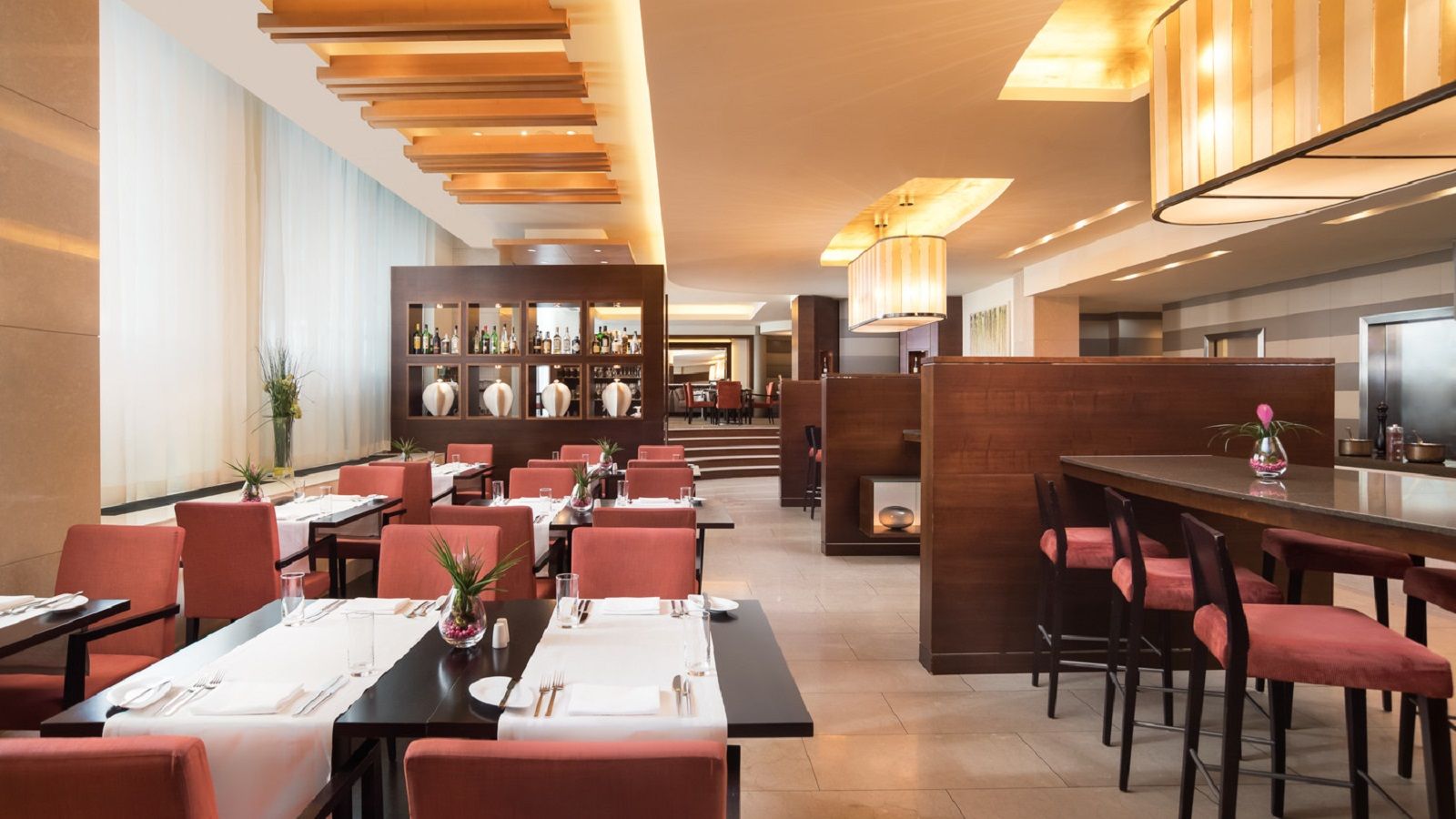 PORT WILSON LOBBY LOUNGE

The Port Wilson Lobby Lounge with a 6 meter high wine wall is an ideal venue for business meetings, gathering with friends or elegant pre or after dinner drinks.
Enjoy daily changing Plat du Jour lunch menu available every weekday from 12:00 PM - 3:00 PM, premium coffee and tea specialties during the day or discover a wide selection of wines.
OPENING HOURS:
Monday - Sunday: 8:00 AM - 01:00 AM
RESERVATIONS:
T: +421 2 3535 0681
E: meetings@sheratonbratislava.com
AMBER'S BAR

Amber's Bar is the ideal place to meet and enjoy a wide selection of cocktails or premium wines from local wineries. Meet friends or colleagues for after work drinks, entertain your friends with the mixed drinks course or organize your personal wine tasting.
OPENING HOURS:
Thursday - Saturday: 5:00 PM - 1:00 AM
Sunday - Wednesday: Closed
RESERVATIONS:
T: +421 2 3535 0682
E: meetings@sheratonbratislava.com
Share Your Culinary Experiences With Us
#SheratonBratislava